Sales and Marketing
Can California Brandy Play on the Global Stage?
The view of California Brandy is one of complete ignorance. Brandy is either in the well at the bar, or in the kitchen for cooking.
25/09/2017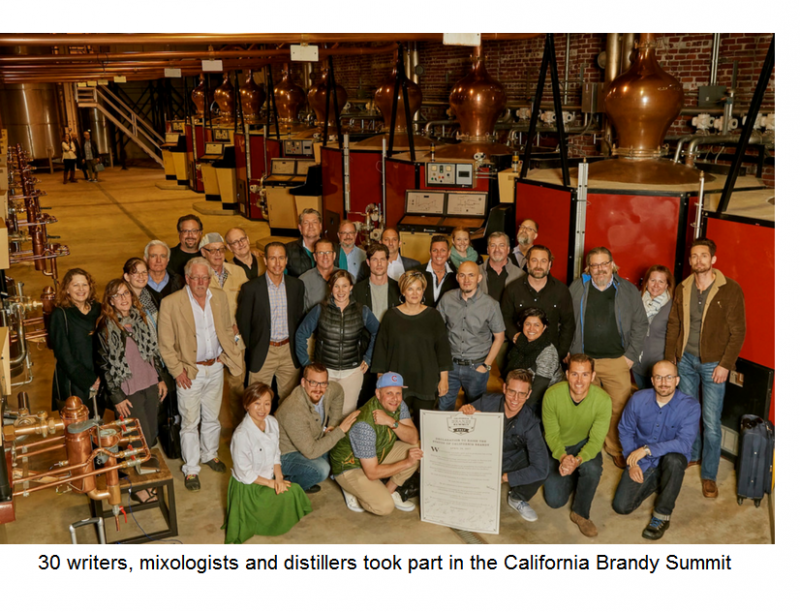 Brandy has a long and global history – over 25 countries produce their own version - and Cognac perfected that history. But the US has a history with brandy dating back 300 years and now California wants to take the lead in making American brandy viable once again as a brown spirit. Can it be done?
"The view of California Brandy is one of complete ignorance. Brandy is either in the well at the bar, or in the kitchen for cooking," says Doug Frost, Master Sommelier, and Master of Wine, one of only five people in the world to hold the dual titles. Frost and 30 mixologists, writers, and distillers, including Paul Pacult, author of five books on American spirits and publisher of F. Paul Pacult's Spirit Journal, and Ernest J. Gallo, Managing Director of E&J Gallo's Spirits Business Unit, (and this author) all came together at the California Brandy Summit. In 2016 the super premium brandy category advanced 16% in the US. But can the brown spirit from the Golden State carve out any viable niche despite its 300-year history?
In 2015, 12.4 million 9-liter cases of brandy and Cognac were sold in the U.S generating $1.9 billion for distillers, many of these brandies from Europe. Since 2002 total brandy and Cognac volumes are up in the U.S. 28%, with the Super Premium category up 227%, according to the Distilled Spirits Council of the United States. To put that into perspective, in 2002 total volume of 9-liter cases was 9,672. By 2015 it was 12,362 cases. Yet in 2015 the top three brands globally were Honey Bee from India, McDowells' No. 1, and, brandy behemoth Emperador popular primarily in the Philippines and China. The only US brandy to make a mark was Paul Masson.
The Summit attempted to lay a strategic foundation for the resurgence of California brandy, in spite of the fact there are less than half a dozen producers currently. "We brandy producers have to keep putting the quality product in the glass, and we need the community to get the word out about what our DNA really is, and about how outstanding California brandy can be," said Dan Farber, founder and distiller of Osocalis Distillery, located in the mountains of Santa Cruz, California. Historically the "DNA" of American brandy was a highly awarded, and highly consumed spirit in the 1800s. Part of the reason for this was wine was unstable for long durations and as Doug Frost suggested, "Brandy is how we drank wine since the 1600s." Domestically peach brandy was the most profitable spirit and was being distilled in the American Colonies as early as 1645. But brandy has West Coast roots before California was ever a state. The Spanish knew of fermentation and distillation hundreds of years before coming to the Americas and they brought that technology with them during the late 1700s employing winemaking and distilling at several of the California missions. Mission San Gabriel in Southern California was the most prolific mission to produce wine and brandy and the California missions were the only supply chain for brandy, Angelica, raisins and other foods stuff for travelers.
Once the gold rush occurred in the early 1850s railroads facilitated California brandy to the East Coast by 1869. However, Prohibition essentially wiped out the brandy category. Additionally, brandy suffered from labor costs and time since you only get one fermentation annually, unlike other spirits. "It's a labor of love since it's the least economically viable spirit there is," says Osocalis's Farber. Attendees at the summit discussed various options for promoting California Brandy. "If brandy is not sexy then we are not making it sexy," Paul Ahvenainen, Master Distiller at Korbel. "I'd like to see getting lower-priced brandy on the market, with less aging so it can hit the market earlier," says Marko Karakasevic of Charbay Distillery based in Mendocino, referencing his own brandies, some of which retail for $350 US. But it's also about defining a strong narrative that brandy is a handmade product and that there are estate and single vineyard designations, equating it to a unique product. ​Ideas also included working closely with on-premise accounts to create brandy-based cocktails, an increase in brandy submission to spirits competitions, and creating a comprehensive trade group similar to Cognac's Bureau National Interprofessionnel du Cognac (BNIC). And ​California brandy has something Cognac does not​– freedom. Cognac is restricted in terms of grape varieties (only nine varieties are allowed) distilling methods, storage, and aging techniques, even that distillation must be completed by March 31st after the harvest. California has no limits. Brandy can be made from Riesling Grenache, Pinot Noir, Sémillon, stored and aged whenever and wherever.
Gallo, the largest winery in California, has taken the lead. But it is a lead that came about almost accidentally "25, 30 years ago we lay down some brandies with no real intention or understanding exactly how they would come to fruition," Ernest Gallo tells BevRoute. That foresight helped them release their Argonaut brandies in San Francisco in July 2017 priced at $38 to $50. The goal is to include California brandy as a cocktail mixer, as well as an after-dinner sipper. What's unique about the Argonaut line is that, in an effort to help consumers to understand what they are drinking, each back label contains the percentage of the grapes used, their variety, the type of still used, and how long it's been aged. Additionally, Gallo acquired the stalwart distiller Germain-Robin in August 2017, complementing their own E&J Gallo brandies, a move that was bittersweet. "For decades, Germain-Robin has struggled to place brandy distilled from California wine where it belongs: a category, long overlooked, but worthy of inclusion at all levels among the world's finest spirits," said Germain-Robin founder Ansley Coale.
As Ernest Gallo tells me; "What sets us apart is we are California brandy made from California grapes using California winemaking techniques, the most ardent structure in the U.S." Ardent perhaps, but it will take more than just passion to see California brandy overcome massive obstacles, yet it is already on that path.