Sales and Marketing
Pairing Wine And Weed: Is It A California Dream Or Nightmare?
What Does the Legalization of Marijuana Mean For the Wine Industry?
07/08/2017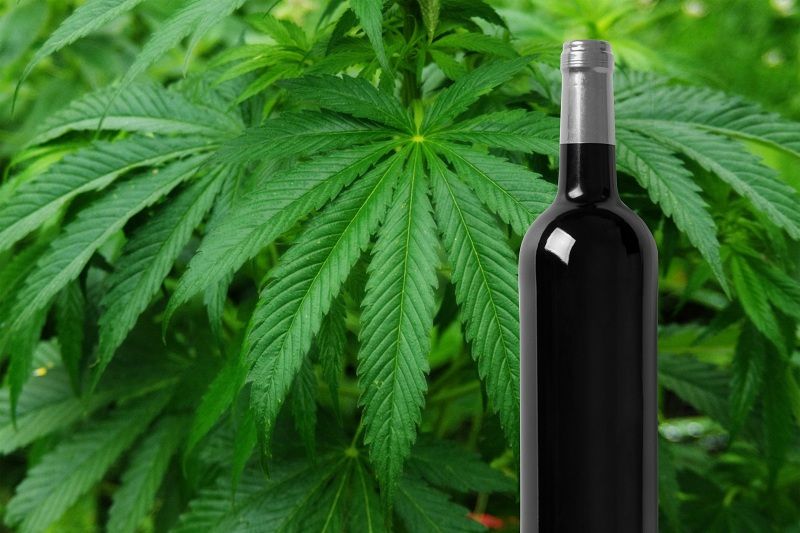 For most people, any mention of Sonoma or Napa immediately conjures up images of California's foremost wine regions. But that could be changing soon, given the legalization of recreational marijuana use in the state.
That's because a region just north of Sonoma and Napa was known as the "Emerald Triangle" also happens to be one of the foremost regions in the nation for cultivating cannabis. The big question on the minds of many people is whether the wine industry and the nascent marijuana industry can actually co-exist.
The case for co-existence
The first signs that the marijuana industry and the wine industry are going to co-exist comes from the burgeoning number of events in California that involve the pairing of food with certain types of marijuana. In short, wine and food events that once involved different types of wines now involve different types of cannabis.
If you thought that people are only smoking marijuana at these events, think again. There's a strong case to be made for edible marijuana, in the form of offerings like edible marijuana brownies or lemonade made with cannabis. People are now trying new innovations like cannabis-infused tea.
And the science of marijuana pairing is starting to resemble the science of wine pairing. Just as everyone knows that white wine pairs well with fish and white meats, it's now the case that certain types of marijuana (sativas) pair well with white wines, while other types of marijuana (indicas) pair well with red wines.
That leads to a potential scenario in which a beautiful farm-to-table dinner in California might consist of local, organically-sourced food paired with some local Sonoma wines as well as various strains of marijuana from the Emerald Triangle region (Humboldt, Mendocino and Trinity counties).
That scenario is increasingly becoming more likely. According to some California wineries, some guests are now starting to inquire about legalized marijuana. And, overall, there appears to be a new willingness to experiment with marijuana. Some wineries, such as Maple Creek Winery in Mendocino County, are trying to have the best of both worlds, in terms of offering tourists both wine and marijuana.
The case for competition
The opposite scenario, of course, is one of competition. According to this scenario, the wine industry of California (and in neighboring states like Oregon that have also legalized recreational marijuana) will fight back against the upstart marijuana industry.
The first tool at their disposal, of course, is the law. While California has legalized recreational marijuana use, the legal landscape is still rapidly shifting as the state tries to figure out how to regulate the cultivation, distribution, and purchase of marijuana throughout the state.
For example, marijuana growers still have to get the necessary land-use permits that pertain to groundwater management. They still need to pass certain guidelines that pertain to renewable energy use. They still have to observe rules about setbacks from highways and schools. And they have to take into account marketing and security measures to make sure that people under the age of 21 do not have access to these products.
The second major tool to nip the marijuana industry in the bud is negative PR. The California wine tourism industry is now a $2 billion industry, and nobody involved wants to kill the golden goose. In other words, they don't want a lot of pot-smoking stoners to scare away tourists from across the nation.
And to do so, they might attempt to portray the upstart marijuana industry as being a bit too reckless and undisciplined as a way to slow its growth. They'll point to traffic accidents on the way to marijuana events and cases of marijuana theft as examples of how the industry is a bit shadowy and nefarious. And they'll do everything in their power to prevent pristine vineyards from being converted into growing fields for cannabis.
The compromise between weed and wine
Of course, most Sonoma and Napa winemakers won't go public on the record against the marijuana industry. But they are certainly apprehensive. Everyone seems to be waiting for the California legislature to clear up matters. And, given the enthusiasm with which the state approved legalizing recreational marijuana use, it's clear that nobody wants to run afoul of a large segment of the population that supports legalized pot.
As a result, the state seems to have reached a hybrid compromise solution. Wine growers have tacitly accepted the marijuana industry, while even the most ardent marijuana supporters have been careful not to encroach on the historical territory (literally) of the wine industry.
That compromise scenario involves events like the Cannabis Business Summit & Expo, recently held in Oakland. There, participants unveiled a number of new tools and offerings for the marijuana cultivation industry – everything from fertilizers and soils and grow lights to consumer edibles. And, in certain parts of the country, academics and wine drinkers are attending talks about the topic like at the USA Trade Tasting 2018 in New York City, where they can learn how to make profits from this growing trend. The question on everyone's mind seems to be: Can the wine and weed industries really co-exist?
The national context
The same scenario playing out in California has been echoed, in at least small part, in other wine-growing states like Oregon that have also approved marijuana for recreational use. There, a few vineyards have already expanded into cannabis cultivation.
But in Oregon, as in California, legal issues dominate. The question that legislators have to be able to answer clearly is whether it's possible to sell alcohol and grow cannabis on the same property. If that's not possible, then wine tasting rooms and other areas where wine is sold must be moved off-premises. And vineyards will be much less enthusiastic about setting off a portion of their property for cannabis cultivation.
And, it's still uncertain whether older wine drinkers will want to show up at tasting events where marijuana users are smoking pot. The issue of second-hand smoke is, at least, something that needs to be taken into consideration.
All told, eight U.S. states have approved recreational marijuana use. So the momentum is clearly building. But just as it took some time for wineries to gain the right to ship their wines across state lines, it's going to be some time before distributors will be able to bundle up weed and wine in the same shipment.
Keep your eye on what's happening in California. Cannabis entrepreneurs are popping up overnight, eager to make money off legalized marijuana. What's most interesting are all the cases where wine growers and marijuana growers are united behind the same goals and interests. What could be at stake is the future of the multibillion-dollar California tourism industry.